The origins of fish and chips are somewhat uncertain, although this highly popular dish is attributed to Great Britain. Fish and chips were accessible to everyone and became a symbol of the working class. Traditionally, fish and chips are considered street food – they are generally served rolled up in sheets of paper and they represent English finger food par excellence. Much sought after by tourists, this dish has now achieved great success beyond Britain's borders.
How to choose the wine to pair with fish
It is difficult to think of a lunch or dinner without considering the right wine-food pairing. The best pairing must take into account the type of dish, the cooking method and the ingredients used. For example, in fish-wine pairing it is necessary to first consider the type of fish but then the method of cooking: grilled, steamed, baked, or fried.
Taking these elements into account, one can then decide whether the dish needs a wine for concordance or for contrasting of flavours. Concordance and contrasting in wine-food pairing respectively provide that the chosen wine has similar or opposite characteristics to the flavours of the dish in question. Pairing by concordance wants the wine to complement the taste of the food and is mainly applied to sweet, aromatic, and spicy dishes. Pairing by contrast provides that the wine has opposite characteristics to those of the dish, so that their respective flavours do not overpower on another. The contrasting method is therefore ideal for fatty dishes such as fish and chips, which have acidic and bitter tendencies or are characterized by oiliness and succulence.
The best Italian wines to pair with fish and chips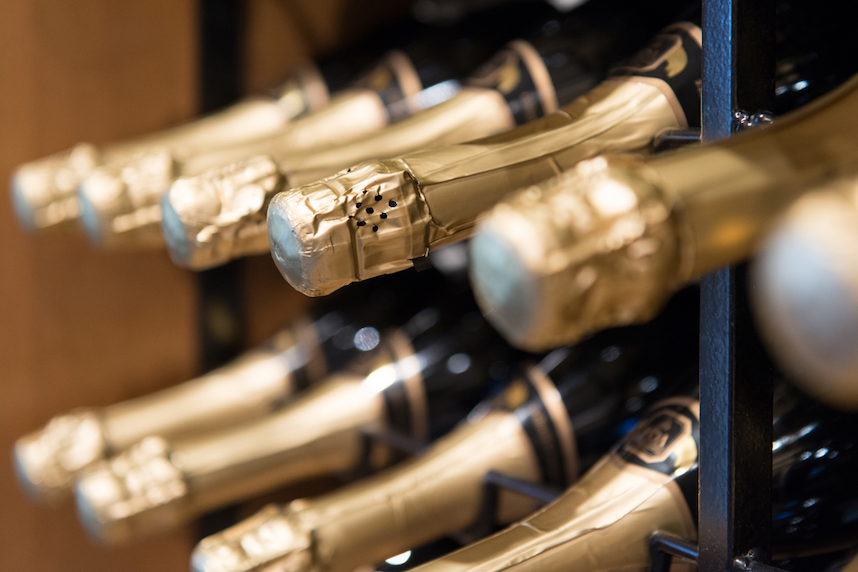 So what are the ideal Italian wines to pair with fish and chips? There are many choices, but the best two are sparkling and still white wines.
Among the most recommended wines to pair with fried fish are certainly sparkling wines in their various types: Spumante, Prosecco, Franciacorta, and Trento DOC.
These wines are characterized by softness, freshness, and effervescence. For example, the Prosecco DOC Brut "Tradition and territory" of the La Gioiosa winery is perfect for cleaning and degreasing the palate from the oiliness of fish and chips. Even a Ferrari "Perlé" Rosé Riserva Trento DOC lends itself very well to being paired with fried fish. Classic Italian sparkling wines of the dry or brut type are best for accompanying fish and chips: we have to mention the renowned "Grande Cuvée Alma" Bellavista Franciacorta DOCG Brut and the 1701 Franciacorta Satèn Vintage 2017, which also perfectly pairs with tempura!
In addition, there are many Italian white wines that are firm, full of character, and able to enhance the flavours of the fish by contrasting with it. Among the best Italian whites are the Falanghina del Sannio DOC, a typical wine of the Campania region, or a fruity Pinot Grigio that brings its minerality to pairing with fish and chips. Finally, we recommend the Vermentino, characterized by good flavour and body, or a Sauvignon Friuli Colli Orientali DOC grown in Friuli-Venezia Giulia, with a fine and elegant essence.
It is important to consider that the best pairing will always be made through personal taste: pair the best Italian wine with fish and chips by choosing from the Svinando selection!