Soave is one of the most appreciated Italian still white wines in the world. It has ancient origins that probably predate the Roman era, and has its roots in one of the most promising and prolific wine-producing territories in the country.

Origins: where Soave comes from
Soave is produced in Veneto, a region of Northern Italy that is characterized by a hilly landscape and land that is suited to the great reds and whites. In particular, it is in the province of Verona on the border with that of Vicenza, at the foot of the Lessini mountains, that Soave finds its greatest expression. The Soave area boasts a good location and rich volcanic soil that give the wines produced in this area a strong minerality.
The grapes from which Soave is produced are mainly autochthonous.
Garganega is the main vine from which this wine derives; it is completed with the addition of 30% Trebbiano di Soave or Chardonnay. It is important to emphasize, however, that Soave differs from Chardonnay and Sauvignon wines both in its complexity and richness of flavour, and in the primary use of local vines instead of international grapes in its production.

The organoleptic characteristics of Soave white wine
Depending on the winery and the soil in which the grapes were grown, the wine's organoleptic characteristics may vary. But what unconditionally distinguishes Soave is its delicate yet intense flavor, with good acidity and full taste. The nose has a floral and fruity bouquet that is never marked; on the palate, it is sapid and mineral, yet soft.
Try the "Vin Soave" Soave Classico DOC 2020 produced by the Inama winery to immerse yourself in the flavors of this Excellent Venetian white. You will find it is the perfect wine to pair with your aperitifs and your fish or sushi dinners.
Types of Soave wine
Soave wine is a still white that stands out on the nose for its delicacy and is distinguished by its dry and harmonious taste. It can be appreciated in several guises.
There are different types of Soave wine:
Soave DOC;
Soave Colli Scaligeri DOC;
Soave Classico DOC: this is the oldest wine in the area and is produced between Soave and Monteforte d'Alpone;
Soave Spumante DOC is delicate, with a fine and persistent perlage
Soave pairings with food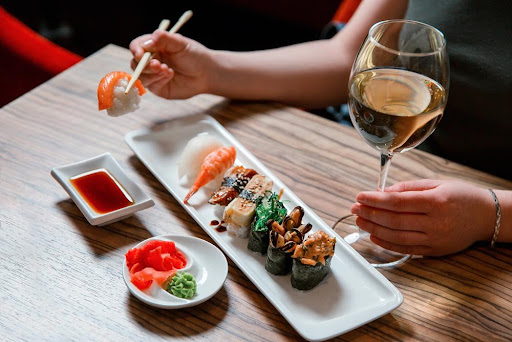 If you are wondering when to drink and how to serve Soave wine, know that the best pairing of this wine is undoubtedly with fish from both lake and sea, and with seafood. You can also enhance this wine by pairing it with white meats or local cheeses and cold cuts.
You can choose to accompany a good glass of Soave with oriental cuisine as well, opting for Japanese sushi, a Chinese first course, or the spiciest Indian recipes to fully enjoy its delicacy.

Italian wineries that produce Soave wine
There are many Italian wineries that have chosen to dedicate their production to Soave wine. At Svinando, for example, you can taste all the freshness and aromaticity of Allegrini's Soave DOC at a historic local winery that is particularly attentive to sustainability. Or you can immerse yourself in the extraordinary finesse of the "Vin Soave" produced at the Inama family-run farm. Finally, you can rediscover the excellence of Garganega grapes at the Cantina di Negrar with its Soave DOC Classico of characteristic almond finish.
It's time to let yourself be conquered by Soave: try Svinando for the different types of this excellent white wine, and journey through the spectacular Venetian hills from which it comes with every sip.