Italian wine is famous throughout the world, thanks to the production of fine wines which boast numerous important awards. According to current data, more white wines are produced in this beautiful country than red and rosé wines (about 57% of production). Not only native vines like Trebbiano, Moscato, Malvasia and Soave, but also international varieties like Chardonnay, Pinot Grigio, Gewürztraminer and Sauvignon Blanc.

Chardonnay, extremely versatile
Now grown all over the world, Chardonnay also has a home in Italy, currently the biggest wine-producing country in the world. The characteristics of Chardonnay come from the vine of origin and it's the most complex among the many varieties. The colour tends to vary from straw yellow to golden yellow, depending on the type and fermentation. In general, all Chardonnay white wines stand out for the wide range of smells, flavours and colours.
For example, the "Stegher" Chardonnay Riserva Alto Adige DOC 2019 is an elegant mountain Chardonnay. With an intense straw yellow colour with greenish reflections, the nose comes with intense notes of pineapple, mango and melon. On the palate, on the other hand, it has a sustained but balanced acidity, with a pleasant mineral note.
Finally, Chardonnay is one of the most used grapes both alone and with other blends, above all for the characteristics of neutrality and very high adaptability which this grape variety has.

Gavi, clean and savoury
Widely known throughout the world, Gavi DOCG is one of the great Piedmontese wines. The Denomination was established in 1998 starting from the pre-existing DOC of 1974, and it is reserved for white wines obtained from grapes of the Cortese vine in purity. The ministerial decree authorises the production of still and sparkling white wines from only the Cortese grape variety. It is an extremely clean and savory white wine, characterized by intense aromas which make it perfect to combine with a fish-based menu.

Gewürztraminer, the most aromatic of all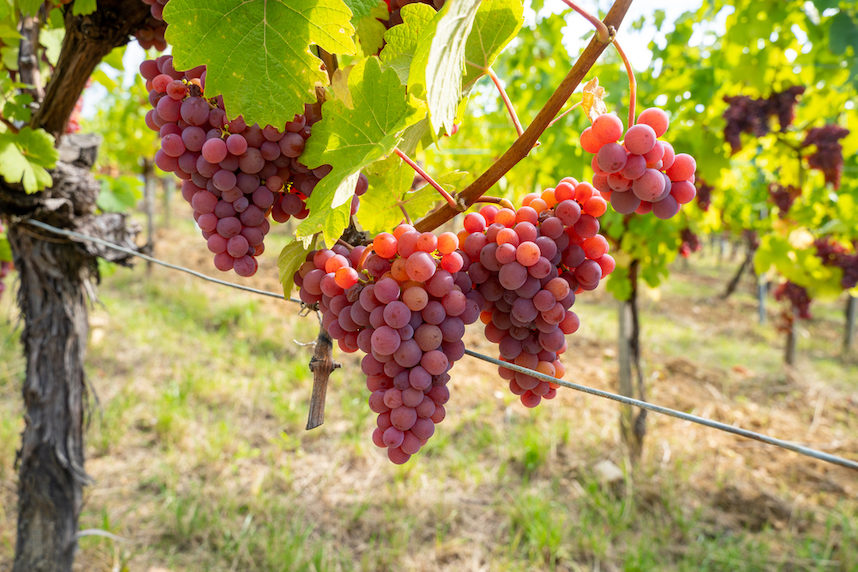 Gewürztraminer is the white grape variety which is the basis of the production of one of the most aromatic Italian wines ever, its namesake.
It is an aromatic vine which is easily recognisable thanks to its typical pink skin and is mainly grown in Northern Italy, in Trentino-Alto Adige and Friuli-Venezia Giulia. But it's not just in Italy: overseas, in the US, Gewürztraminer is produced in California, Washington state and Oregon. With an intense straw yellow colour with golden reflections, it's characterised by a lively and fruity aromatic bouquet: pineapple, lychee, mango and candied fruit stand out for their intensity, but there are also cloves and gingerbread. In the mouth it's alcoholic, slightly acidic, sweet and aromatic.

Lugana, round and balanced
Lugana is a white wine produced in Lombardy and Veneto near Lake Garda, in the provinces of Brescia and Verona. The Lugana DOC is a soft, harmonious, round and balanced white wine. Straw yellow in colour, on the nose it has hints of almond, citrus and white flowers. Lugana DOC is an extremely versatile wine, which lends itself to numerous combinations: from aperitifs to appetisers, from first courses, including with structured sauces, to meat and fish main courses.

Pinot Grigio, fresh and harmonious
Pinot Grigio is one of the best-loved varieties of white wine; it's one of the so-called "international" varieties and for many years it was the most widespread in Italy, thanks to a quality which has gradually improved over time. Known since the Middle Ages, in Italy it has adapted particularly well in Veneto, Trentino-Alto Adige and, more recently, in the Collio area. Vinified in white, it results in straw-yellow-coloured wines with golden reflections, while its bouquet is delicate and pleasantly fruity. In the mouth it's dry, fresh, balanced and harmonious.

Riesling Renano, the noble variety
The Riesling Renano is one of the most refined white wines produced in the world; it's particularly fine, delicate, fragrant and endowed with an intriguing charm. Among aficionados it's perhaps the most sought after, the most elite, thanks to its unique organoleptic characteristics, starting with the typical hydrocarbon aromas.
It's a vine which is mainly grown in Germany and France, but also in Italy there are areas where it's most important, like Trentino, Friuli, Alto Adige, Veneto and Oltrepò Pavese.
Considered by many to be a noble variety, Riesling Renano is a grape which is particularly resistant to cold. The younger Rieslings stand out for their floral and mineral notes, while the aged ones acquire complexity and finesse of aromas.

Sauvignon Blanc, intense and strong
Sauvignon Blanc is a wine which comes from the Loire, France, and was imported into Friuli-Venezia Giulia during Habsburg rule. It's widespread throughout Europe, but also in California, Australia and New Zealand. It has an intense aroma and a strong olfactory and taste impact, which depends on the type of soil, the production area, the climate and the vinification method.
It's a fresh and fruity wine, with the unmistakable aromas of exotic fruit, yellow pepper, tomato leaves and mint. The colour is straw yellow, with green reflections. In the mouth it's soft and velvety, harmonious and usually persistent.

Soave, savoury and mineral
Soave is one of the most popular Italian still white wines in the world. Its history has very ancient origins, probably dating back to the pre-Roman era. Soave's production area is located in Veneto, in the province of Verona on the border with Vicenza, at the foot of the Lessini mountains. The grapes with which Soave is produced are mainly indigenous: Garganega is the main vine from which this wine derives, topped off with the addition of 30% Trebbiano di Soave or Chardonnay. With a delicate and at the same time intense flavour, it has a good acidity, with a savoury and mineral taste.

Now that you know the types of Italian white wine, all that remains is to be fascinated by the best white wines chosen for you by the experts at Svinando!